Bita Fayyazi's Sensational Dystopic Museum (a collaborative project)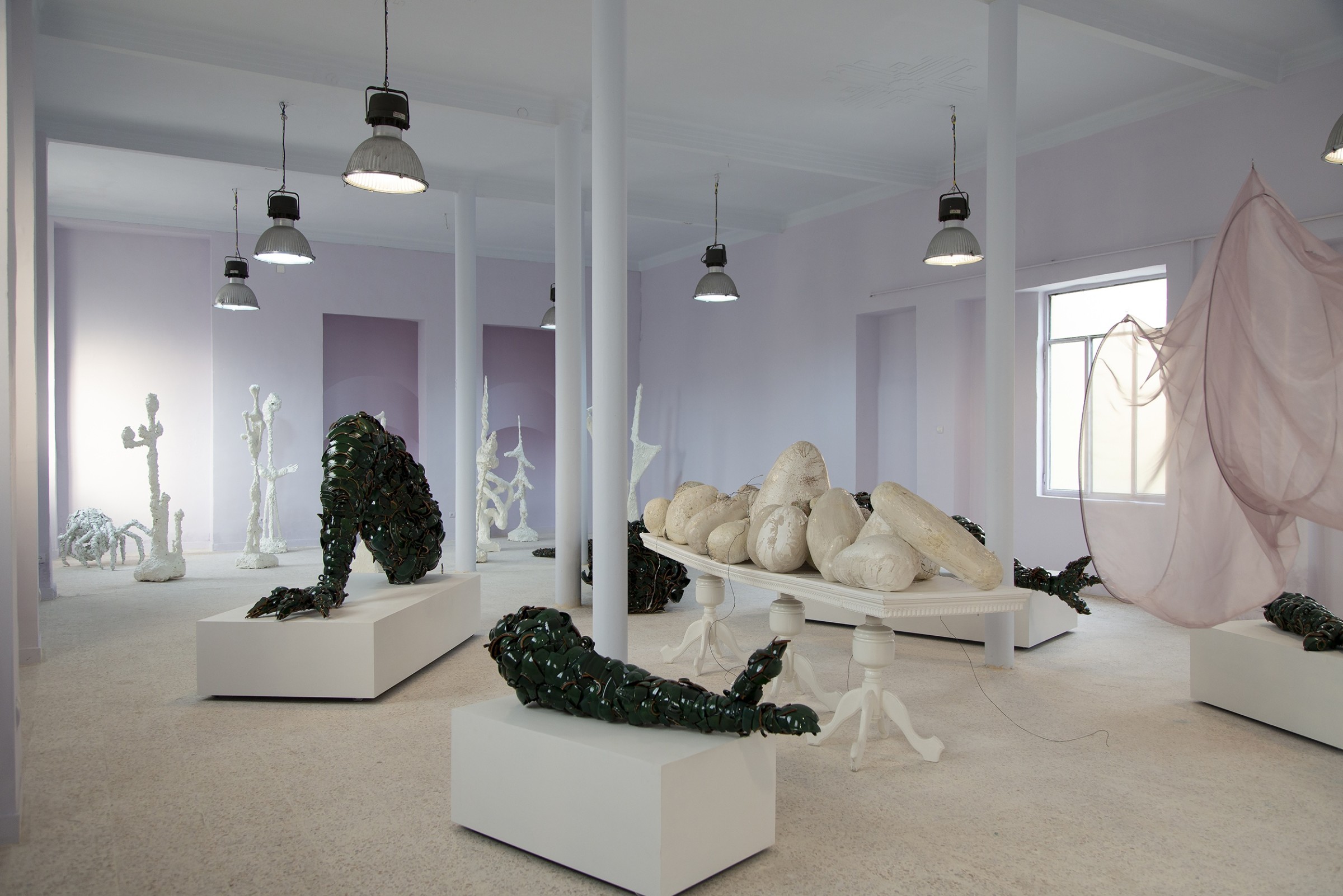 Installation view of The Dinosaur Lost her Bearings at Dastan:Outside/College, Tehran (all photos by Matin Jamei)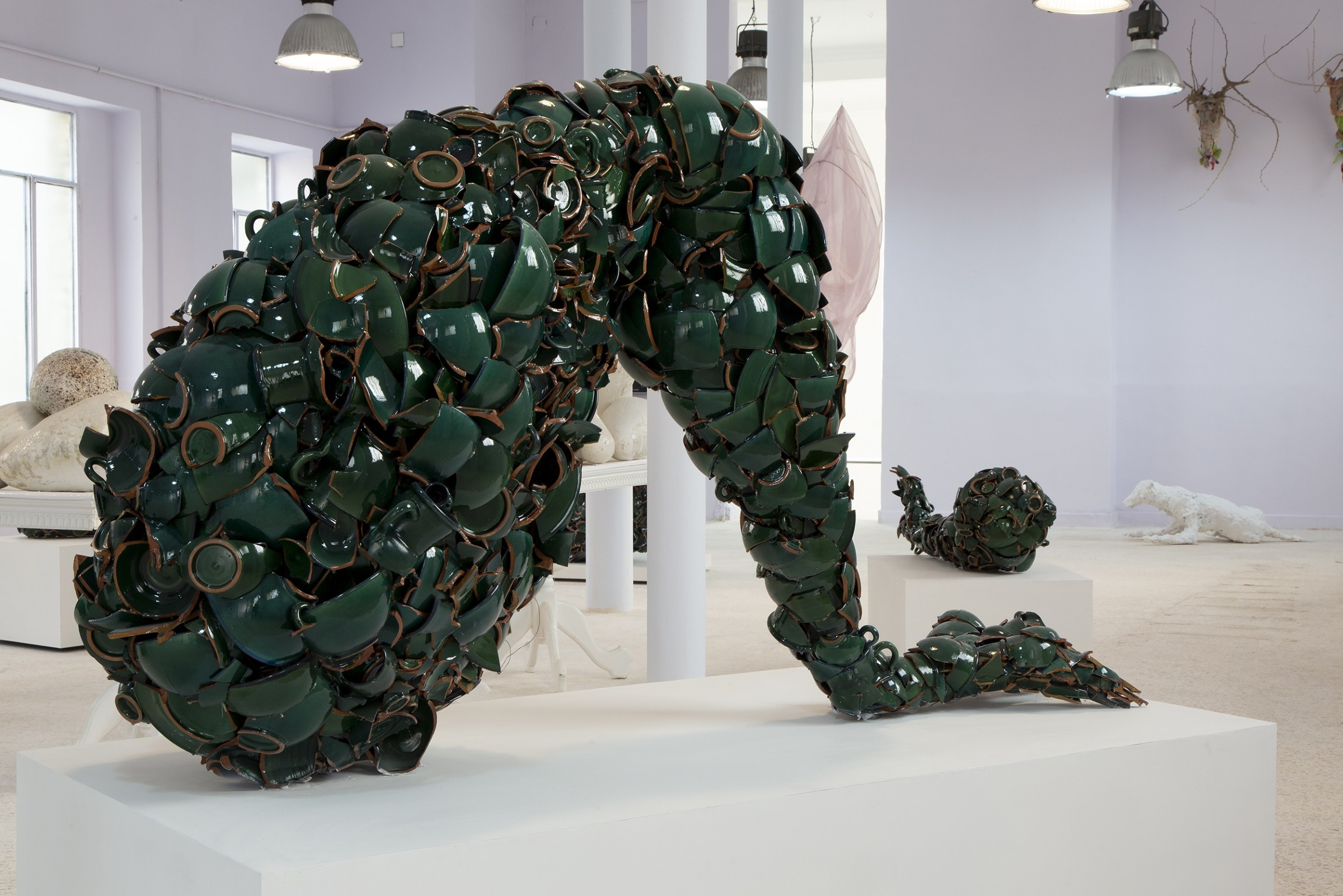 Since the mid-1990's the interdisciplinary artist Bita Fayyazi has created public and gallery installations and work that offer the viewer a strange and fantastical experience – reflecting a captivating and disturbing dystopic state of being and beings. Fascinated by creating in large numbers and multitudes — from sculptures of terracotta dogs in 'Roadkill', cast out and later buried on the streets of Tehran, to the invasion of an army of ceramic cockroaches in exhibition halls, to her recent show, 'The Dinosaur Lost Her Bearings', Fayyazi does not cease to shock, entertain and at times bewilder the visitor.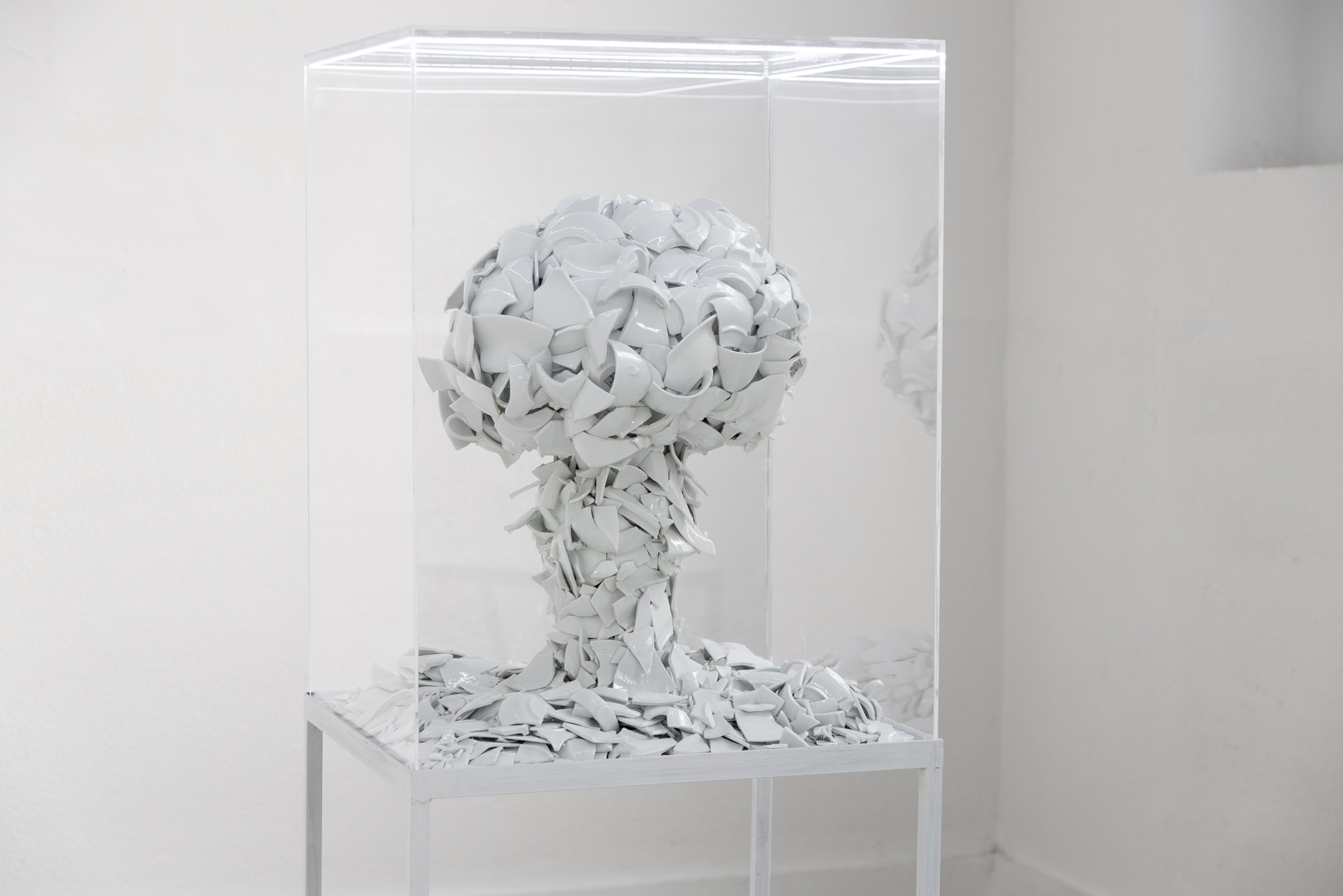 The current exhibition, on view at Dastan: Outside/College, is a site-specific project installation where Fayyazi and her collaborators explore themes of extinction, survival, hope and despair, all presented on a platter of time, from the prehistoric to now and an unforeseen future. A white mushroom cloud sculpture in a glass cage welcomes you at far end corner of the entrance, stirring the ever-lurking fear of destruction of the living and nature by mankind. The main hall has been left 'unguarded' by the sculptures of lone white dogs who have long lost interest – forsaken the world. The eerie feeling of entering an apocalyptic world hits you as you walk around the giant dismantled green ceramic-covered body parts of a dinosaur, scattered on the stands displayed around her unhatched eggs, taking center stage on a table. At the far end of the hall the white skeleton of a once-forest of trees lay bare, while in the corner two mating spiders strive to convey the promise of hope and life. A vicious cycle of creation and destruction, the beautiful apocalyptic theatre conjured by Fayyazi is not intended for the fainthearted.
"The Dinosaur Lost her Bearings" is a project by Bita Fayyazi in collaboration with Raana Dehghan, Farbod Elkaee, Nariman Farrokhi, Afshin Sadipour, Sepideh Sakhaie and Sepideh Zamani.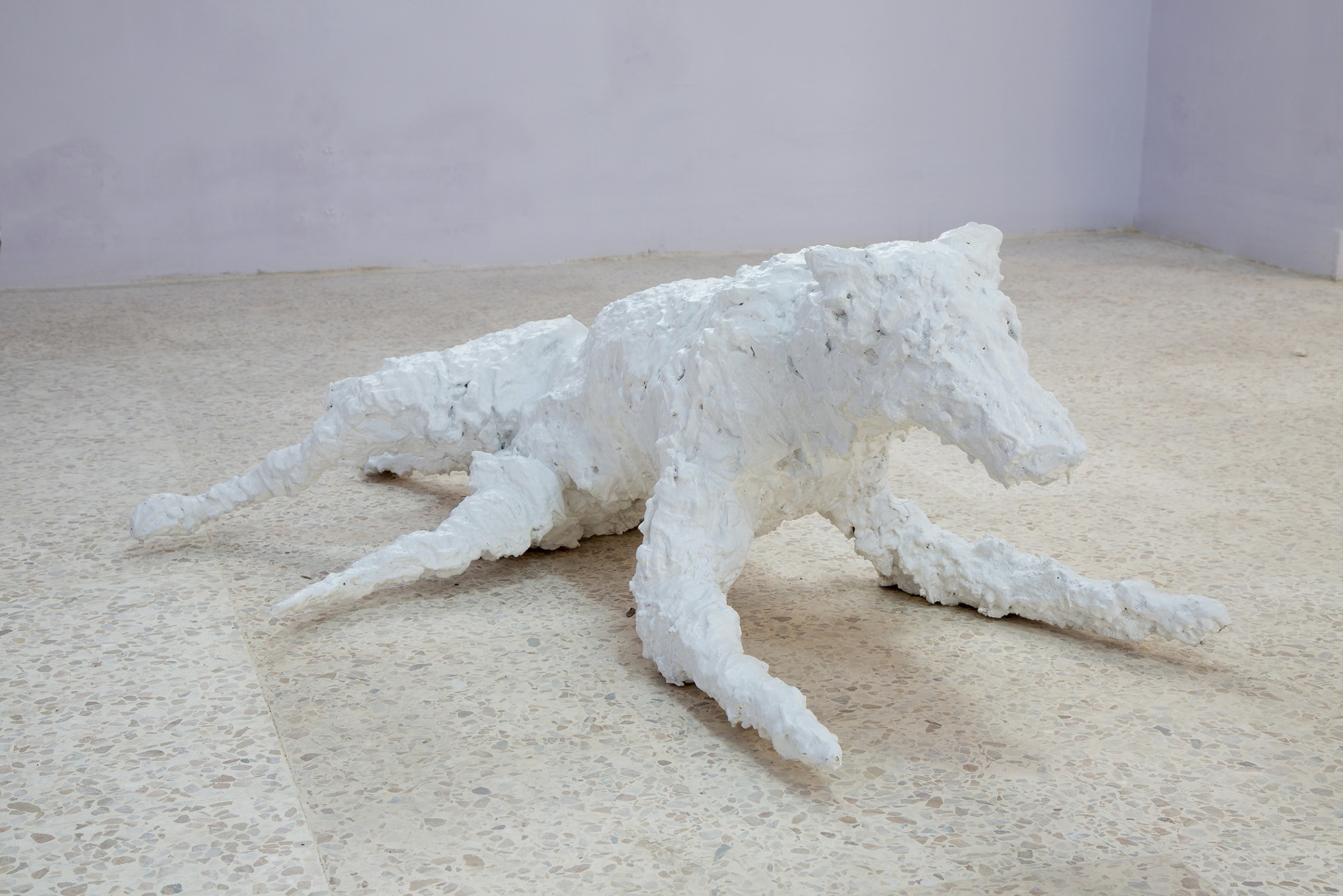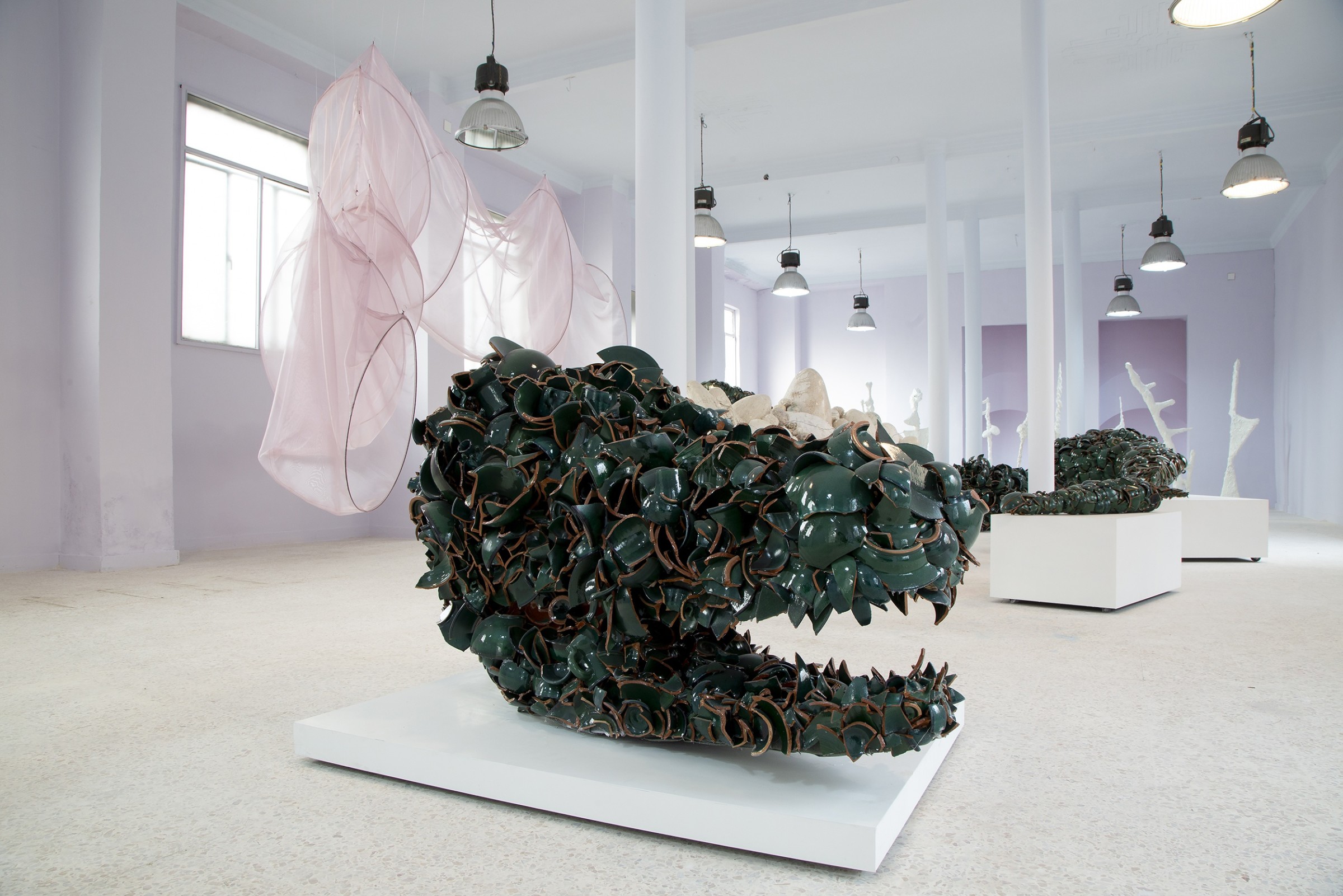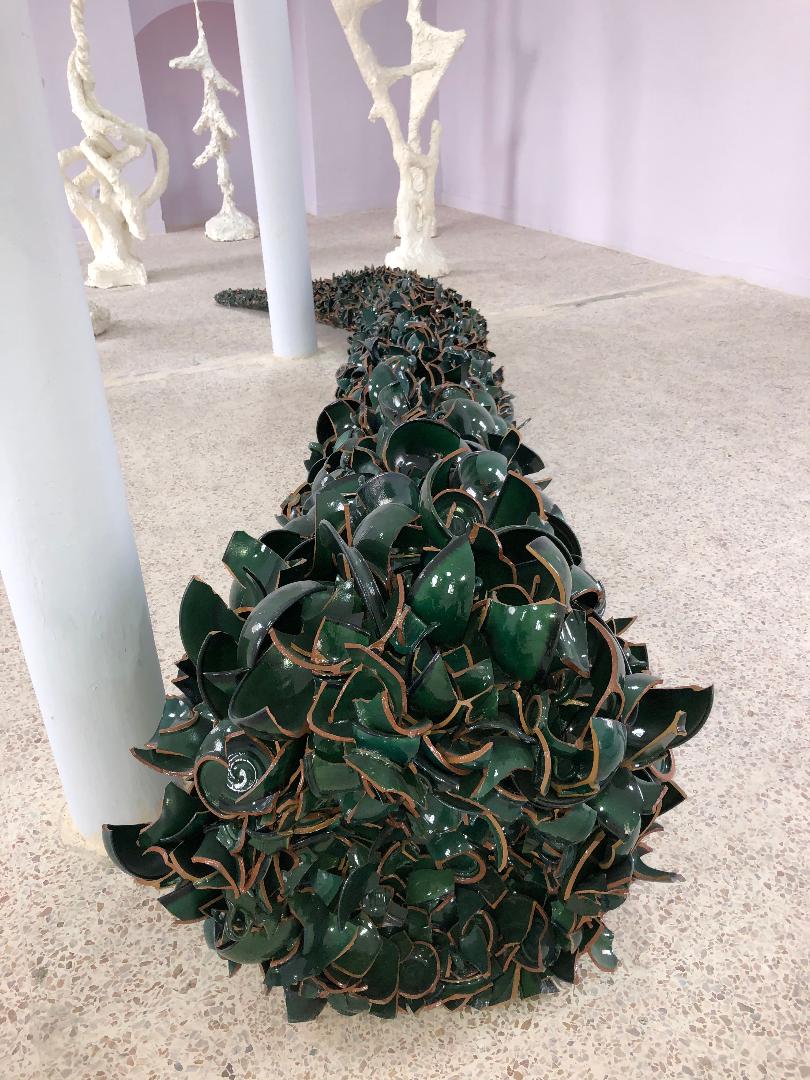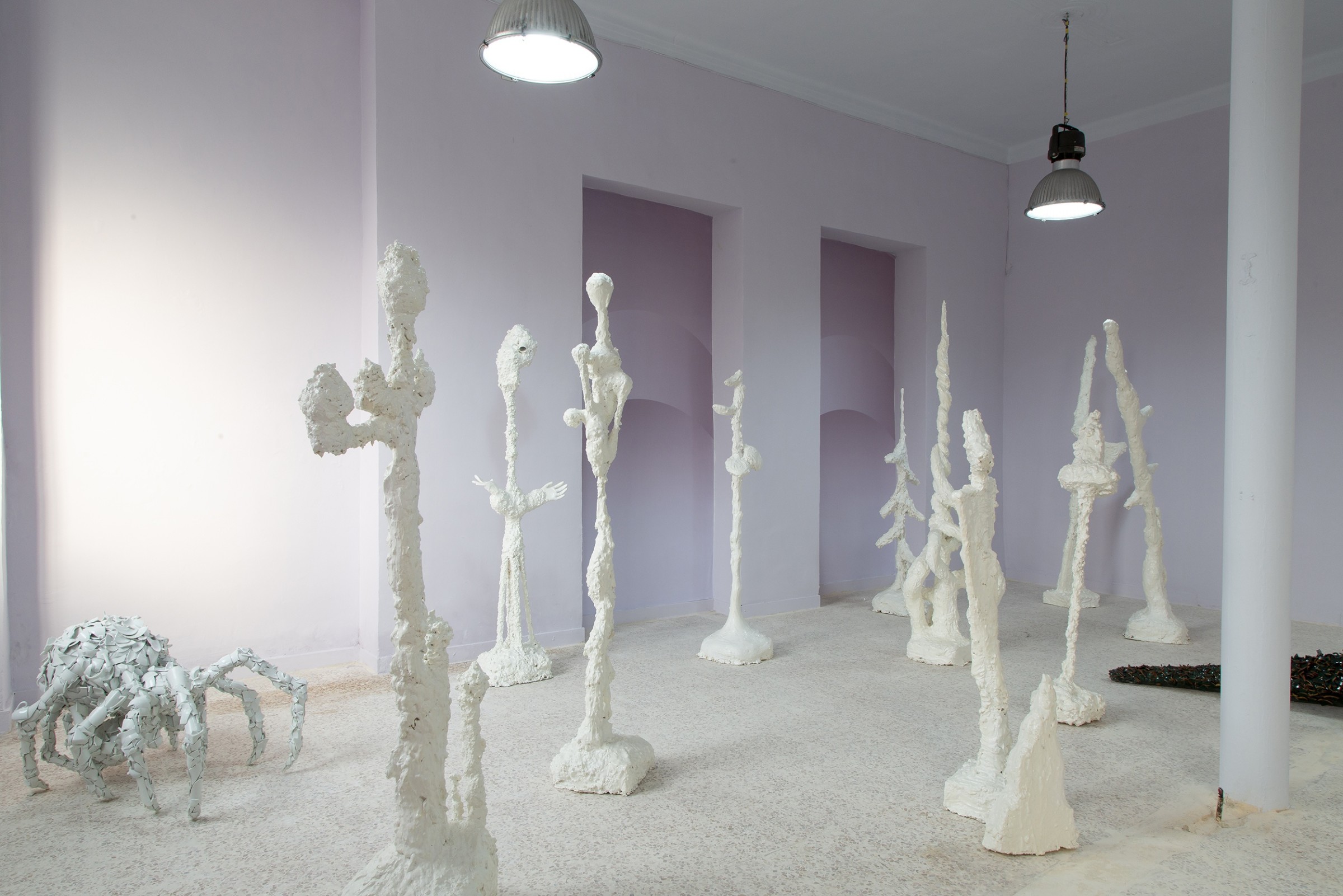 On view at Dastan: Outside/College till January 15, 2021
Installation view of The Dinosaur Lost her Bearings at Dastan:Outside/College, Tehran (photo by Matin Jamei)